Welcome to Crow Dog - a forge of classic & contemporary blistering blues
to take you on a journey far across the Atlantic and back in time by dusk!
So named after a Native American Indian Chief, whose bravery was welcomed by his
people after the retribution of a notorious evil Sioux chief in 1881.
Whilst they trace known roots on the back roads to John Mayall, Robin Trower, & Robben Ford to name only a few,
they find new ground to set up camp and cultivate well-crafted original songs with stunning guitar work,
a tight rhythm section and clean vocal harmonies.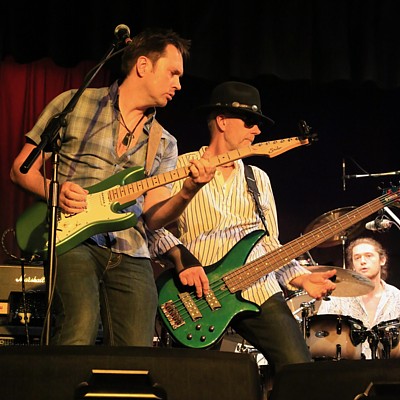 Supporting Dr Feelgood at Cockermouth LIVE! 2018 - photos © Kim Price Evans


Great acoustic gig at Shills, Cockermouth on Friday 11th November 2022.
Hope to be back again some time in the New Year. Watch this space!

Listen to a Crow Dog blues band track "Twenty Again"

Listen to a Crow Dog acoustic track "Angels Live Inside"

Crow Dog T-shirts & hoodies now available from dizzyjam.com
©2020 Crow Dog
Page updated 20/11/22
Cockermouth LIVE! Festival photos © Kim Price Evans